Online the new information booklet and FAQ-Frequentlythe Asked Questions with relevant information for Ukrainian people
Institutions and administrations involved in the Ukrainian emergency, together with the Department contributed to the preparation of the document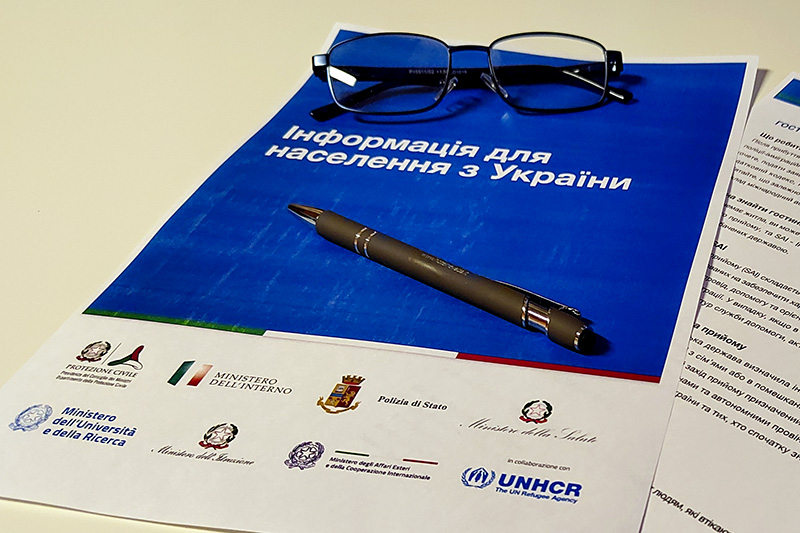 What to do upon arrival in Italy? What is the subsistence allowance? Many questions might arise for people coming from Ukraine who choose to seek refuge in Italy. To answer these questions, the Civil Protection Department, the agencies and the administrations involved in the Ukrainian emergency (Ministry of the Interior, State Police, Ministry of Health, Ministry of University and Research, Ministry of Education, Ministry of Foreign Affairs, and UNHCR) realized a single information document providing the most important information for people fleeing the war.
The booklet "Information for People from Ukraine" available in Italian, English and Ukrainian, is divided into several topics: Reception; Temporary Protection; Assistance; Health Care; Education; Employment and a short list of helpline numbers. The booklet also contains links to pages of institutional websites to find useful information for people who need help accessing services and assistance in Italy.
The booklet is supplemented by the "Q&As for the population from Ukraine" also divided by topic, addressing the questions raised by Ukrainian associations in Italy. The answers seek to address real questions from people from Ukraine. These FAQs are available in both Ukrainian and Italian.
To complement these information tools, the Contact Center of the Department is available from Monday to Saturday, from 8 AM to 8 PM, providing assistance in the Ukrainian language too.
The toll-free number is available at 800 840 840 or via the online form.