Marche bad weather: National Service's commitment to support affected territories
Today the Head of Department is back in the territories affected by the emergency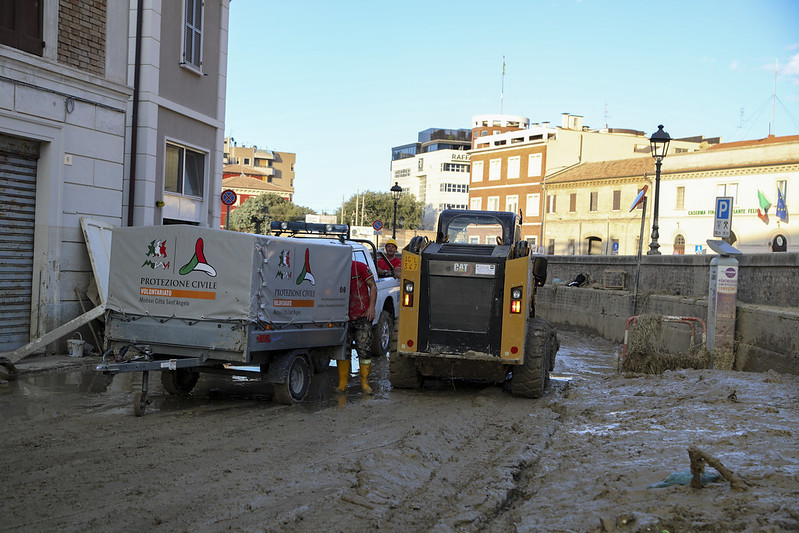 Activities to find the two people still missing and assist the population affected by the wave of bad weather that affected the provinces of Ancona and Pesaro-Urbino on September 15 continue in the Marche region. Components and Operational Structures continue to operate in the area to ensure full support to local communities and institutions.
Most of the interventions still involve activities to restore the road system and essential services, and road cleaning.
To further strengthen the action on the territory of the municipality of Senigallia, which was particularly affected by the flood, new teams of volunteers are converging to support the units at work. In particular, the mobile column from the Abruzzo region has been joined by those from the Tuscany and Umbria regions. Specialized teams from Anpas-National Association of Public Assistance, Cisom-Italian Ambulance Corps of the Order of Malta and Vab-Forest Firefighting and the Veneto regional mobile column are also on the way.
A total of more than 1,200 forces are deployed between the provinces of Ancona and Pesaro-Urbino to deal with the emergency.
In addition, in view of the general elections scheduled for Sept. 25, the Prefectures of Ancona and Pesaro-Urbino are completing the agility checks of the designated premises to ensure the conduct of voting operations.
The Head of Department, Fabrizio Curcio, returned to the Marche region today to meet the Mayors of the municipalities in the province of Pesaro-Urbino most affected by the wave of bad weather and to ensure the full support of the Civil Protection System to assistance activities  with the Region and the Prefectures concerned.