Emilia-Romagna bad weather: President von der Leyen visiting the affected areas
After a flyover, she met administrators, citizens and volunteers in Cesena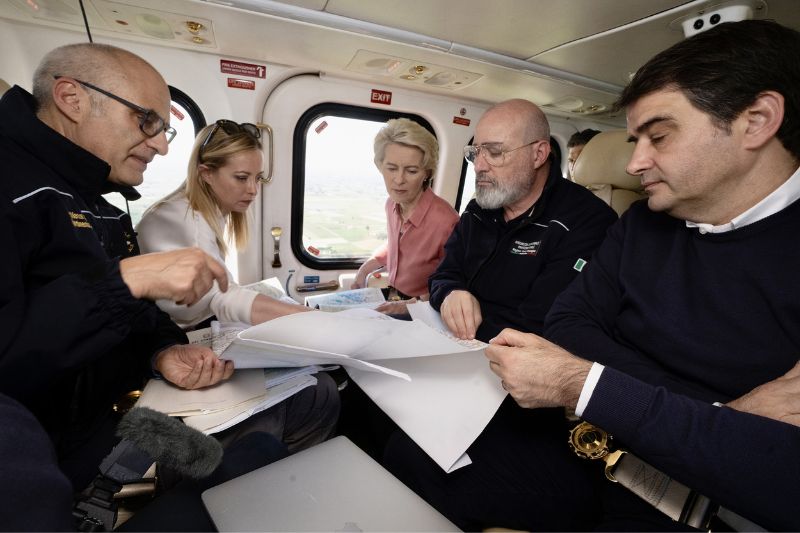 European Commission President Ursula von der Leyen visited Emilia-Romagna today, May 25.
Accompanied by the Prime Minister, Giorgia Meloni, the Minister for European Affairs, Raffaele Fitto, the President of the Region, Stefano Bonaccini, and the Head of the Civil Protection Department, Fabrizio Curcio, she flew over the flooded areas and personally experienced the damage andasas she said during the press conference in Bologna, "the devastation that has hit this Region.
President von der Leyen then met, in Cesena, the mayors of the affected areas, the citizens gathered in Piazza del Popolo, some representatives of the civil protection volunteers engaged in field activities and other system structures, and greeted the teams active within the Union Civil Protection Mechanism arrived from France, Slovakia and Slovenia to support the restoration activities of the flooded areas thanks to high capacity pumping modules
The activities of assistance to the population, removal of mud and garbage, intervention on the more than 700 municipal and provincial roads closed to traffic and on the hundreds of instabilities detected by the teams of technicians and experts on the territory continue. According to data provided by the region, more than 20,000 people are still out of their homes, most of them in the area of Ravenna, with approximately 1,500 housed in hotels and facilities set up by municipalities.
Photo source: Italian Government website