IT-alert, the new phase of tests starts in the territory
From September 12, the test activities of IT-alert, the national public alert system Italy is adopting, will restart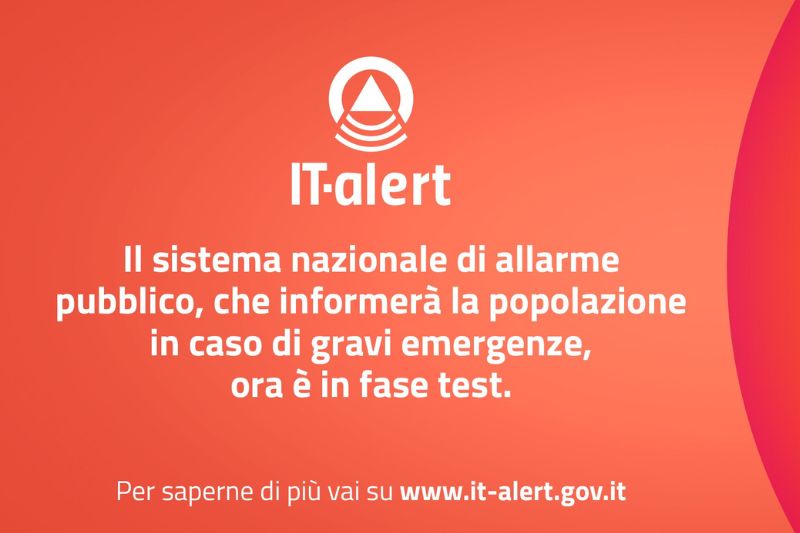 The test activities of IT-alert, the national public alert system for direct information to the population that Italy is adopting, started in June with the first 5 tests in Tuscany, Sardinia, Sicily, Calabria and Emilia-Romagna, will restart.
The calendar of dates is as follows:
September 12 in Campania, Friuli-Venezia Giulia and Marche
September 14 in Piedmont, Puglia and Umbria
September 19 in Basilicata, Lombardy and Molise
September 21 in Lazio, Valle d'Aosta and Veneto
September 26 in Abruzzo and the Autonomous Province of Trento
September 27 in Liguria
October 13 in the Autonomous Province of Bolzano
The dates listed above may change in the event that regional civil protection systems are engaged in activities for possible alerts that may occur during the days of the test or for emergency situations.
Around 12 PM on the defined day, the mobile phones, turned on and with a mobile phone connection, of people in the involved area will receive a test message.
The purposes of this activity are to raise awareness of the new system among people who may be involved in emergency situations once IT-alert becomes operational, to test its functioning in relation to different types of phones and operating systems, and to gather feedback to from users through a questionnaire, to implement the service.
For further infomation www.it-alert.gov.it