Ischia weather emergency: operations to assist the population still ongoing
Teams from the Civil Protection Department to support the territorial coordination centers on the island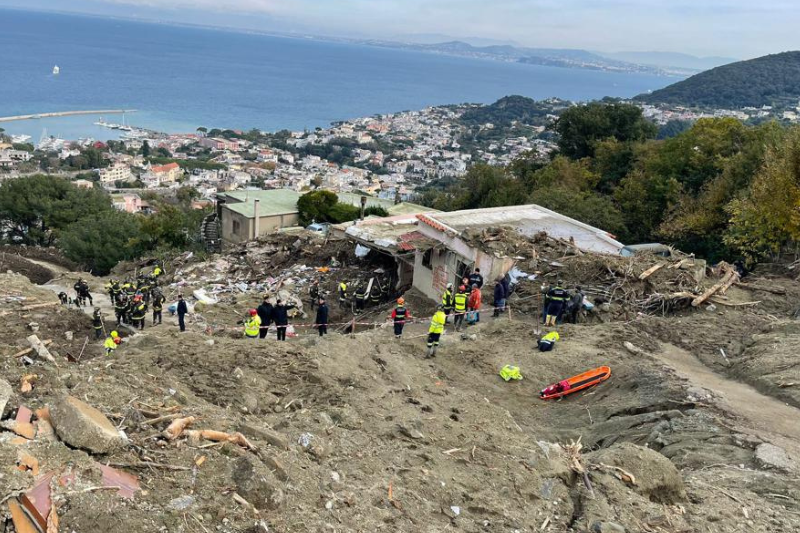 The efforts of the National Civil Protection Service to respond to the emergency occurred last November 26 on the island of Ischia when the municipality of Casamicciola was affected by a major landslide as a result of the exceptional weather events continue.
 
There are 8 ascertained victims at the moment, but the search for the other 4 missings continues unabated.
290 people have been displaced, with about 170 hosted in hotel facilities on the island and the others in autonomous accommodation.
 
About 230 volunteers from regional civil protection organizations continue to provide assistance to the population while about 180 officers from the police forceare engaged in the surveillance and protection of homes. About 90 Port Authority crews are operating in reconnaissance activities with six vehicles, along the coast. The ship San Giorgio, with military personnel on board, remains always in support off the coast of Ischia in case of need. 
The National Fire Department, which is present on the island with 200 people and 100 vehicles (including drones, trucks and earth-moving equipment), continues its efforts to search for missing people - an activity for which a group of volunteers from the National Alpine and Speleological Rescue Corps has also been activated - and is working to verify the building's condition. To determine the perimeter of the red zone also the assessment by specialist technicians of the hydrogeological risk in the area will be considered.
The elaboration of a specific civil protection dispatch plan for some areas of the Municipality of Casamicciola that are particularly exposed due to the existing residual risk is also underway. The plan will include the necessary procedures to follow in case of new alerts and the preventive measures to adopt for the protection of the people in those areas.
 
(Last update 29/11/2022 at 7:00 PM)