Ischia weather emergency: appointment of the delegated commissioner
The Head of the Department signed the ordinance also providing for the possibility of assigning a contribution for self-settlement and for requesting a suspension of mortgage payments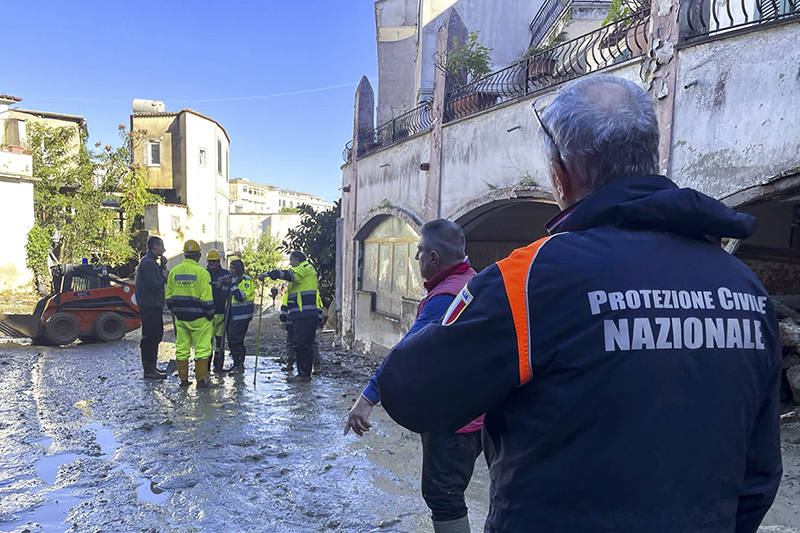 The Head of the Civil Protection Department, Fabrizio Curcio, has signed Ordinance No. 948 of November 30, 2022, which contains the first urgent civil protection interventions to deal with the Ischia emergency caused by the weather events occurred last November 26.
With the ordinance signed after the agreement of the Campania Region, the Extraordinary Commissioner for interventions in the territories of the municipalities on the island of Ischia affected by the seismic events occurred on August 21, 2017, Giovanni Legnini, has been appointed as Delegated Commissioner.
The Commissioner can count on regional, provincial, municipal structures and offices, central and peripheral State administrations, and can identify one or more implementing subjects. He also has the task of ensuring the coordination of interventions in the first phase of the emergency, particularly to reduce risk situations, ensure indispensable relief and assistance activities, secure the areas affected by the calamitous events, implement urgent interventions to avoid situations of danger or greater damage to persons or properties.
The Commissioner's task is also to provide for the gradual recognition of the resulting or estimated costs of interventions and to prepare, within thirty days of the publication of the order, an initial plan of urgent interventions to submit to the Head of the Department of Civil Protection for approval. This plan contains a recognition of measures and interventions, including interventions realized through emergency procedures, necessary to address the emergency.
The ordinance also provides for the possibility of allocating a contribution for autonomous accommodation (CAS) to family units having their primary, continuous and permanent home destroyed in part or totally, or forced to leave the home following the implementation of official measures and are not housed in the housing facilities, but have independently found an accommodation.
In case of a single person, the CAS is set at 400 euros per month, while for family units consisting of two, three, four, five or more people, the contribution is 500, 700, 800 and 900 euros per month.
In case there are persons over 65 years old in the family unit, or people with disabilities with a disability percentage no lower than 67 percent, an additional contribution of 200 euros per month for each is allowed, above the maximum limits.
The order of the Head of the Department also provides the possibility for the mortgage holders of evacuated buildings, commercial and economic activity, including agricultural activities, carried out in those buildings, to apply for a suspension of mortgage payments, self-certifying the damage, until the definition of the habitability of the building and, in any case, not later than the end of the state of emergency declared on November 27, 2022 by the Council of Ministers, that will end on November 26, 2023.