Emilia-Romagna bad weather: the first economic contribution to affected families
Ordinance no. 999 issued by the Head of Department has provided for a rapid procedure to immediately guarantee an immediate payment of Euro 3,000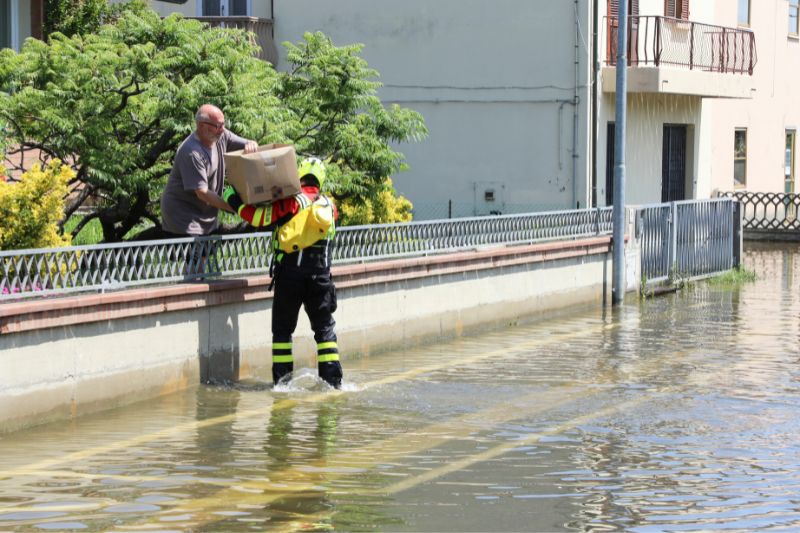 The ordinance no. 999 of May 31, 2023 issued by the Head of the Civil Protection Department has been published, redefining the first economic measure of immediate support for the citizens of Emilia-Romagna affected by the floods.
The contribution that, in every emergency, the Commissioner delegate, through the mayors of the municipalities concerned, is authorised to allocate to families within the limit of euro 5,000, and which had already been introduced, after the first events, by ordinance no. 992 of May 4, has been revised to suit the new and worse scenario caused by the intense wave of bad weather on May 16. These are the main innovations: the contribution is restricted to family units with a main, habitual and continuous residency in a housing unit that was flooded or directly affected by landslides or mudslides causing its inability of use. The applications for the contribution do not change: the restoration of damage to the residential unit, its pertinences, and the external areas for access, the cleaning and removal of water, mud and debris, and the replacement, or restoration, or purchase of destroyed or damaged movable property. The latter include, for the first time, educational material, crockery and household items, as well as clothing up to 10% of the contribution received.
To the contribution provided for the individual housing unit may be added - if the latter is located in a residential building - a further contribution, again up to a maximum of euro 5,000, to restore the common parts of the building damaged to the extent that the building becomes inaccessible.
A further flat-rate contribution of euro 750 to contribute to the expenses related to the complete damage survey that may be requested from a specialist, for the recognition of the damage scenario and the identification of the needs, in view of the further measures announced by the Government.
To facilitate and accelerate the process in the first phase and to provide concrete and immediate support to the affected citizens, the ordinance has provided that the contribution will be paid in two tranches: a down payment of €3,000 and a subsequent balance, including a possible supplement of €750.
Family units that meet the requirements must submit an application to the municipality to receive the down payment and a subsequent statement to certify the expenses of the credited down payment and receive the balance, if any.
The Municipality, upon receiving the citizens' application, verifies the declared data and transmits to the delegated Commissioner the data to proceed with the payments.
The deadline for submitting applications for the down payment is August 30, 2023, and the deadline for submitting applications for the balance is October 31, 2023.
The payment of the down payment and the balance will be accelerated through the application of innovative procedures tested in other recent national emergencies.
These new instruments may also be extended to other existing emergencies, in agreement with the relative delegated commissioners.