Earthquake in Turkey: National Civil Protection Service has been activated
Italian aid are reaching the site to support local authorities in search and rescue operations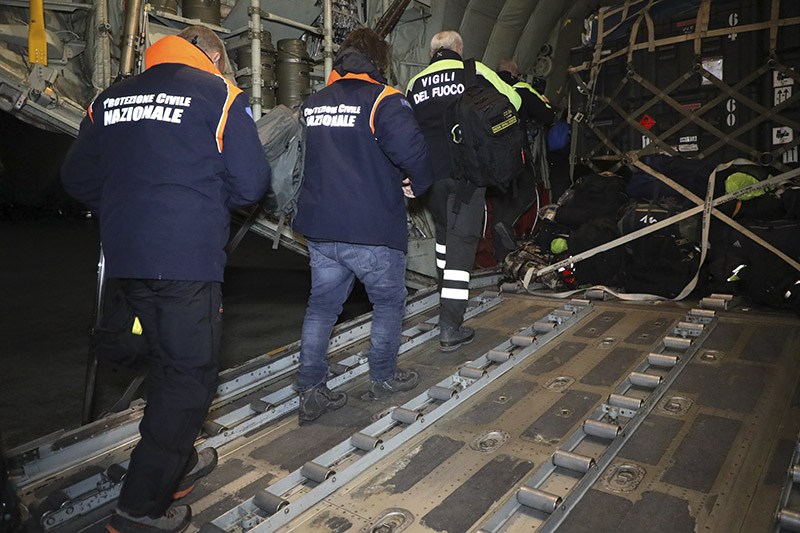 On Monday, February 6, 2023, at 2:17 AM in Italy (4:17 AM in Turkey), a magnitude 7.9 earthquake with epicenter in southeastern Turkey, about 30 km from the city of Gaziantep and with a depth of approximately 20 km, hit the regions of southern Turkey and northern Syria.
According to the elaborations from the Ingv's Tsunami Alert Center (CAT), the Italian National Civil Protection Department issued an alert for possible tsunami waves that might reach the Italian coast in the early morning hours. The National Civil Protection Service was immediately activated on the territory and followed the development of the situation immediately.
CAT-INGV researchers monitored and analysed data from tide gauges located in the area close to the earthquake and on other Greek islands. Approximately one hour after the event, at the Iskenderun tide gauge in the Turkish province of Hatay and at the Erdemli tide gauge in the province of Mersin, tsunami measurement with amplitudes in the order of 12-14 cm and duration of about 7-9 minutes were detected.
With no significant changes observed in the following hours from the data provided by tide gauges of ISPRA's The National Tidegauge Network installed on the Italian coasts of Apulia, Calabria and Sicily, at 7:02 AM in Italy, the system was notified that the event ceased.
The 7.9-magnitude earthquake was followed throughout the day by numerous aftershocks. Another strong quake, with a magnitude of 7.5, was recorded at 11:24 AM Italian time with an epicenter to the north with respect to the night's event.  At the moment, due to the collapse of houses and buildings, there are thousands of dead and injured, and thousands of missing.
Italy, through the National Civil Protection Service, immediately offered its availability to send aid to support local authorities in search and rescue operations. Specifically, within the framework of the European Civil Protection Mechanism, our country offered a USAR Medium module (Urban Search And Rescue) , made available by the the National Fire and Rescue Service, composed of 57 operators, including 11 doctors belonging to the Regional Health Services of Lazio and Tuscany, and 12 tons of equipment, to send in the coming hours to Turkey with a 6-person team from the Civil Protection Department.
Meanwhile, a first advanced team, also composed of personnel from the Civil Defense Department and the National Fire Department, has arrived in Turkey, joining the international authorities already present at the emergency sites.